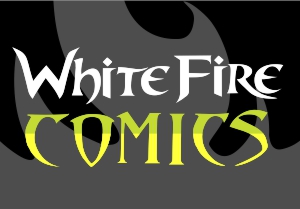 WhiteFire Comics is an online, independent comic book company, bringing you fantastic art and amazing stories from a wide variety of genres, both for your viewing pleasure and digital download. We invite you to join us and buckle up for the ride, it goes straight up from here.
A quick breakdown of our current titles:
Three titles that introduce you to The World of WhiteFire. This isn't bible study, folks!
WHITEFIRE Guardian of Light: (free to read online) A weakened group of angels rebel against the ancient Lightian ways in order to gain a new guardian...
GABRIEL - Hand of God: Experience the power once held by the mighty archangel Gabriel, and witness his fall from grace within the Lightian order.
The Great JOHNATHAN QUINT: Quint is a small town star on his way up in the world, but just how far can you fall when you're only four feet tall.
And we also present you these two unrelated titles, both bringing you a dark and twisted look at the future...
THE FORSAKEN FUTURE: In the year 2072, North American society collapses after a devastating meteor impact. A century has since passed, and who will now stand for the common, er... mutated man?
SISTER MERCY: It's been decades since the cities fell and the dead arose. A dark cult is in control of the few remaining survivors and there is only one person left willing to stand in their way... Have Mercy!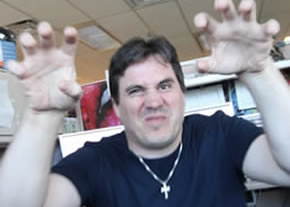 Doran Corkum
Creator//Captain/ Writer/Artist and more.
Creator/Writer of The World of WhiteFire and The Forsaken Future.
I grew up in the Southern part of Nova Scotia, Canada in the beautiful yet poor Annapolis Valley. Starting to draw at a young age I went though many phases. In my teens I drew tons of heavy metal art on jean jackets. I was introduced to comic books through friends and fell in love with the art of Andy Kubert and Mark Texeira. Spidey, Hulk and Ghost Rider became my favorite heroes and when Wolverine joined these three forming the New Fantastic Four, I had a man tear in my eye! Inspired by comics I started creating my own characters and storylines.
In my early twenties I left Nova Scotia for greener pastures, eventually finding my way to Ottawa, Canada. Over the years I had stopped reading comic books as the industry had became flooded and watered down, but I always drew and wrote.
Comic books became mainstream in the late 90's as the movie industry had success with "The Crow", "Judge Dredd" and "Blade" titles. I realized my filing cabinet full of characters and stories did not have to stay silent. I continuously educated myself trying to find ways to create comics, becoming a Graphic technician printer, Web Designer and Digital Studio Media student.
Each diploma became a piece of the puzzle as this thing called the "Internet" became a monster engulfing all of our lives. Through this medium I decided I could create with no strings attached.
Welcome to my world, my domain...
Regards,
Doran R Corkum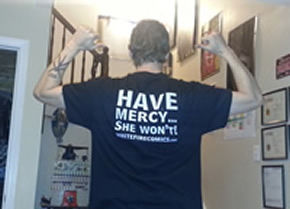 Corey Hardiman
Writer/Editor/First mate.
Creator/Writer of Sister Mercy.
Hatched from a black and corrupted egg in Newfoundland, Canada in 1974, Corey had remained in the shadows for most of his early life, leaving many in the world to question his very existence. As with most elusive species, the advent of human technology and expansion soon pushed him into the light, finally putting all of the rumors to rest, it lived!

Corey moved to Nova Scotia as the seventies turned into the eighties, knowing that a direct link to the mainland would be necessary for eventual human domination. You can only do so much from an island. It wasn't until the nineties though, after several stages of metamorphosis that he finally found the tool through which he would take over all that he surveyed. His writing. Thus it began, with dark and twisted tales of vampires and ghosts and horrors that defied description, experimental writings that were all signposts on the way to the first destination, that destination which you too have now reached if you are reading these words. Herein you will find the first strike... for your viewing and reading pleasure. Enjoy!


A special thanks for the heroic efforts of the following people....
Jorge A. Castilla - Artist - Gabriel - Hand of God.
Jasmine Anderson - Artist - Sister Mercy
Rodney Bennett - Artist - The Great Johnathan Quint.
Mike Mcgee - Artist - The Forsaken Future.
Paul Anderson - Colorist - The Forsaken Future.